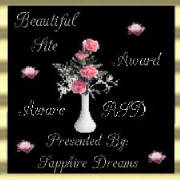 This award was made by Sapphire, whom is a new member here.
Thank you so much sweety, I just love it God Bless You!!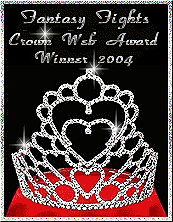 Congratulations! On your win for the Fantasy Fights Crown Web Awards for 2004. The Fantasy Fights Crown Wed Awards is a Free service and is presented to those sites whose web design; originality and content have achieved the highest levels of excellence.This is our way of giving you recognition for all your hard work and a job well done.

Congratulations!
Aware-RSD has been reviewed and chosen to bear the 2003-2004 Golden Web Award.You and Your Staff at Aware-RSD have Obviously Worked Very Hard. As a recipient of the prestigious Golden Web Award, we invite you to join your fellow webmasters and designers in over "145" countries worldwide, by becoming a respected Professional Member of the International Association of Web Masters & Designers: - Proudly Display Your Award -

Congratulations,
Your web site has been selected as a recipient of the highly regarded "Editor's Choice Award" from HealingWell.com. This award is reserved for select health web sites that exhibit 1) reliable and quality health information on disease and disorder topics, and 2) consumer/patient accessibility and support. Again, congratulations and thank you for your online efforts. Peter Waite, Editor
HealingWell.com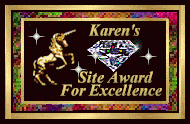 We would like to present you with the 2003 Golden Award, plus the Golden Diamond Website Award for Website Excellence
You've done a great job on everything and it was a pleasure reviewing the site.
Keep up the wonderful work
Karen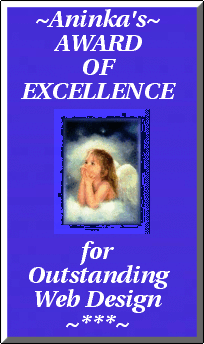 It is a pleasure to share my award with you. Keep up the great job!
Best wishes,
~Aninka

All of us agreed that you truly do have a interesting web site with quality content and design.The Aloha Award is not an easy award to win. That is why this award is seen so infrequently. Proudly display the Aloha Award to let others know that your Web site is informative, unique and has won this prestigious award.

Congratulations from all the staff at Art Space 2000.com. You have won the "World Web Award of Excellence" for originality, overall design and appearance, ease of navigation, and content. Keep up the good work.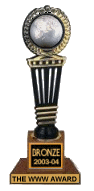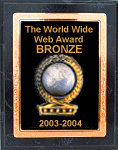 Shari,
As one of Worlds peak internet bodies, the Awards of The World Wide Web Awards are amongst the most prestigious available and hence, amongst some of the more difficult to win on the web. Congratulations! Your site at:
Aware-RSD
has been selected to receive the World Wide Web Awards "Bronze" Award. We see all the hard work and dedication that you have put into constructing your web site and your efforts are well deserved.
We won both 2003-2004 & 2004-2005 awards.
You Can Also Vote for our websites:
------------------------------------------------------